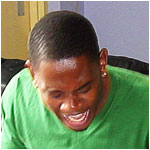 JOSH – Aml Ameen
Aml Ameen is best known for his roles as Trife in Kidulthood and Lewis Hardy in The Bill. His other television credits include: Silent Witness, Fallout, Happy Slapz, and Holby City. His film roles include George Lucas's Red Tails.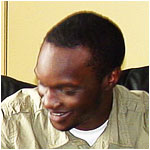 CONAN – Arnold Oceng
Arnold appears regularly on television in Grange Hill, The Bill, and Casualty. He also starred in Adulthood, and Silent Witness.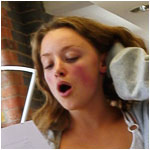 SARAH – Jassy Grez 
Actress and vocalist, Jassy studied at the BRIT school and her experience ranges from being a lead in the Channel 4 drama: 'Whatever – a teenage musical' to a skincare commercial for OXY. She's also doing some presenting for the Cordless show.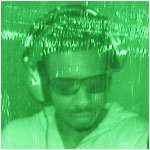 KINGSTON – Kevin Blake Ababio  
Actor/Singer/Song writer/Rapper/studio Engineer 
Kevin had a small part in Adulthood where his music was also selected to be included in the film. In 2008 he was in a Short film: 72, directed by Sheridan De Myers. More recently he was in an independent film: Baseline, to be released later this year.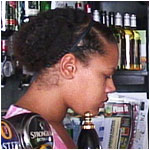 LUCY- Nadine Wild Palmer 
Actor, Singer and Writer. Nadine most recently played the role of Shelley, a pregnant young girl on the run from a gang in Crossings, by Julie McNamara. She will be touring with Crossings around England from November.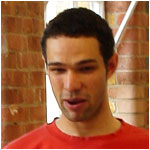 PENKNIFE – Lloyd Thomas 
Lloyd's BBC Radio Drama credits include: All Quiet on the Western Front, Pilgrim, Dr Zhivago, Fortunes of War, and Clare in the Community for Radio Entertainment. His film credits include: Wise Up for Channel 4, New Money, Lush, Irascible, and Young Hearts Leap.  Theatre includes: Sixteen Up and Booty Call.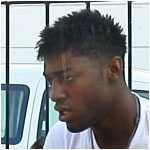 SAM – Levi Haughton
Levi's theatre credits include: Jack the Ripper, The Wizard of Oz, A Midsummer Night's Dream and The Dumb Waiter.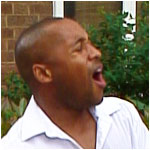 SHAKAI – Chris Syrus 
Chris has taken part in a production that toured schools in Kent. He's music co-ordinator for Out of the Gate and is a soloist. He worked with Lucy Hannah on Rapping up Europe and is a member of the Out of the Gate writing team.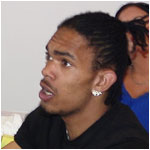 DARREN – Chris Samuels 
Chris is a member of the Out of the Gate writing team.